release date: March 12, 2011
The new version of the distribution Calculate Linux 11.3 has been released. All editions of distribution are available for download: Calculate Linux Desktop with desktop KDE (CLD), GNOME (CLDG) and XFCE (CLDX), Calculate Linux Scratch (CLS), Calculate Directory Server (CDS) and Calculate Scratch Server (CSS).
Major Changes
Updated desktop environment KDE 4.6.1 and GNOME 2.32.
Calculate Linux Desktop now include LibreOffice instead of OpenOffice.
Improved integration of GTK-apps LibreOffice, Chromium, Gimp, Xsane surrounded KDE Added Plasma, used styling Oxygen.
Full removal of the HAL package.
Support for installation on the device /dev/cciss (HP servers).
Added support for printers Samsung.
Fixed installation on USB-HDD.
Software Versions
CLD (KDE Desktop):
KDE 4.6.1, Amarok 2.4.0, digiKam 1.9.0, Chromium 10.0.648.127, Kernel 2.6.36.3, LibreOffice 3.3.1, X.Org 7.4
i686 - 1.6 GB, x86_64 - 1.8 GB
CLDG (GNOME Desktop):
Gnome 2.32, Gimp 2.6.11, Chromium 10.0.648.127, Kernel 2.6.36.3, LibreOffice 3.3.1, X.Org 7.4
i686 - 1.3 GB, x86_64 - 1.5 GB
CLDX (XFCE Desktop):
XFCE 4.8, Gimp 2.6.11, Kernel 2.6.36.3, Chromium 10.0.648.127, LibreOffice 3.3.1, X.Org 7.4
i686 - 1.2 GB, x86_64 - 1.4 GB
CDS (Directory Server):
Bind 9.7.2-P3, Kernel 2.6.32.28, OpenLDAP 2.4.24, Postfix 2.7.2, ProFTPD 1.3.3d, Samba 3.5.7
i686 - 621 MB, x86_64 - 670 MB
CLS (Scratch Desktop):
X.Org 7.4, Kernel 2.6.36.3
i686 - 465 MB, x86_64 - 507 MB
CSS (Scratch Server):
Kernel 2.6.32.28
i686 - 360 MB, x86_64 - 399 MB
Screenshots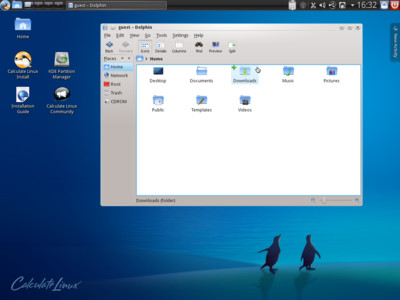 Pic. 1. Calculate Linux Desktop 11.3 KDE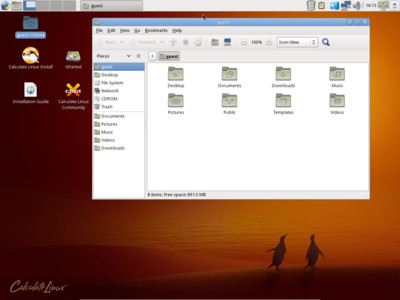 Pic. 2. Calculate Linux Desktop 11.3 GNOME
Pic. 3. Calculate Linux Desktop 11.3 XFCE
Links
Project Site: http://www.calculate-linux.org
Download: http://www.calculate-linux.org/main/en/download